4/22/19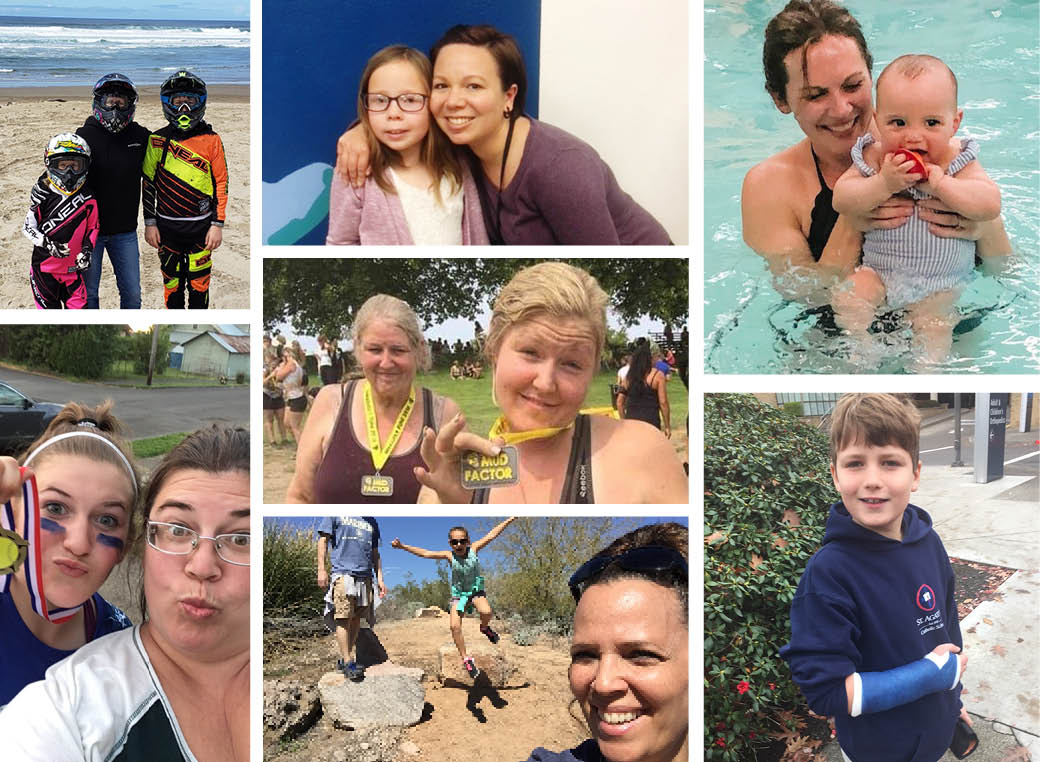 To me, being a fearless parent means knowing that I have someone learning from me, and that means being aware that I need to lead by example. To my daughter, I am the person she wants to be, and I want to make sure that I'm worthy of that.
Because of her, I have done things I would never have done without her watching me. I put myself through college, saved money for an overseas trip, and found a great career and company to work for. I'm constantly pushing myself to be better, to be stronger, and to have a good outlook on life. I am better because of her.
Being a fearless parent means pushing on in spite of the fear of failure.
—Wendy G.
Fearless is making it through my child's first broken bone!
—Nora M.
Being a fearless parent means approaching milestones and firsts with excitement and support. Even if that means dunking your infant under water for the first time in swim class!
—Laura T.
To be a fearless parent is trying to stay connected to your children, wherever they are in life. It is too easy to get caught up in our needs and wants, and we miss that moment when we can connect.
I have never been a physical person but my youngest daughter, Tara, wanted me to do a 5K Mud Fun Run with her. It is about the doing, so we did it. I was 59 and she was 28. This was my first and only Mud Fun Run, and I survived.
Riding a zipline with my step-daughter, Jennifer, was the same thing. I wanted to build the memories even though it was a challenge for me to get off the ground. It was the first time for both of us. I am slightly afraid of heights but rose above the fear and did it.
I want my children to have those memories that I was there.
—Morleen F.
Being fearless, to me, means teaching your kids the things you love, even when it scares you.
—Jamie B.
In August of 2018, my husband took a job in Arizona. We'd only been to Arizona for vacations and never been to Chandler. We had lots of stress with only two weeks to pack up our entire home, selling our home (which took five months!), the long drive to Arizona (which included our two kitties), and sending our 8-year-old daughter to a new school.
Bella never showed fear about this huge change, even though it was hard for her to leave the home she grew up in and many friends in Portland. She did amazing with the change and now she tells me that she's "living her best life."
With the addition of swimming and hiking, our lifestyle has gotten more healthy, and all the vitamin D from the daily sunshine is another added benefit for our mental health. We took Bella on her first real hike in March of this year. She did really well even with a steep incline. It's fun teaching my child how to live a healthy lifestyle.
—Laura F.
I have three children who are currently 22, 20 and 14. They are all active with sports and Future Farmers of America (FFA). We, as parents, try to provide our children with all the tools we feel they will need to be successful in life. However, at times, we beat ourselves up because of the choices our children make. I used to look at it as a failure on my part and how I raised them, even though I knew they knew better.
I feel like I am fearless because I still strive to provide them tools to be successful, but have realized that I cannot make their choices. I can provide them guidance and support, and I can show them disappointment and remind them of the morals or values I tried to instill in them.
Having the courage to guide my children, to provide them feedback no matter how difficult, makes me a fearless parent.
—Kim H.
Fearless is watching your child struggle—and letting her—so she can experience the satisfaction of figuring out the solution herself.
—Taraneh F.