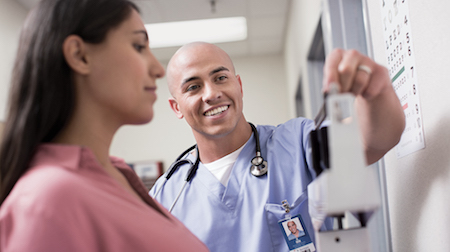 One of the best ways you can save money on health care is by being proactive. This doesn't mean avoiding the doctor. It means going to the doctor before something happens—which is also called preventive care.
When people have to pay for preventive care, studies show they sometimes skip it. Regence health plans cover many preventive services with no copay and no deductible, meaning no out-of-pocket costs to you.
In other words, you've already paid for these preventive services just by paying your health plan premium—so it's a good idea to take advantage of them!
We cover services that are proven to help people stay healthy. The complete preventive care list is long, so here are some highlights.
Women: Annual physical exams, contraceptives, breast and cervical cancer screenings, osteoporosis screening, breastfeeding support and supplies, and screenings for sexually transmitted diseases and domestic violence.
Men: Annual physical exams, blood pressure and cholesterol screenings, diabetes screenings, and screenings for sexually transmitted diseases.
Immunizations and counseling: Many recommended vaccinations including flu shots, measles vaccinations, and pneumonia vaccinations. Depression screenings, obesity screenings and counseling, tobacco use counseling and treatments, and more.

Children and teens: Well-baby visits, screenings for autism, vision, behavioral and developmental disorders, and others.
Here's a quick preventive care checklist of services we cover. Print the checklist and hang it up on your fridge—it's an easy way to remind yourself of the screenings you need to schedule.
There are times when you might pay a copay, coinsurance or deductible for a covered preventive service. That might happen when:
The doctor bills you for an office visit in addition to the covered preventive service or when the preventive service is not the main purpose of the visit.
You use an out-of-network provider when an in-network provider could have provided the service.

You are treated for a condition detected by a free screening during the same visit.
To avoid surprises and confusion:
If you had your plan before March 23, 2010, and your plan group (usually your employer) chose to keep it after January 1, 2014, your plan is considered "grandfathered" under the Affordable Care Act (ACA). A grandfathered plan will have whatever preventive care was covered in that plan before the ACA became law. It may not have the coverage required of plans created after ACA passed.
Some of our members and groups chose to keep their non-ACA plans. However, many of these plans already covered some preventive services. When in doubt, sign in to check your benefits on regence.com.
If you have any questions, we're happy to help. Call the number on your member ID card, or sign in to use Live Chat.