We define palliative care as compassionate, patient-centered, family-oriented, specialized medical care for people living with serious illness or significant injury. It is focused on providing relief from symptoms and stress, and its goal is to improve quality of life for both the patient and their caregivers.
Most of our health plans include coverage for palliative care through our Personalized Care Support program.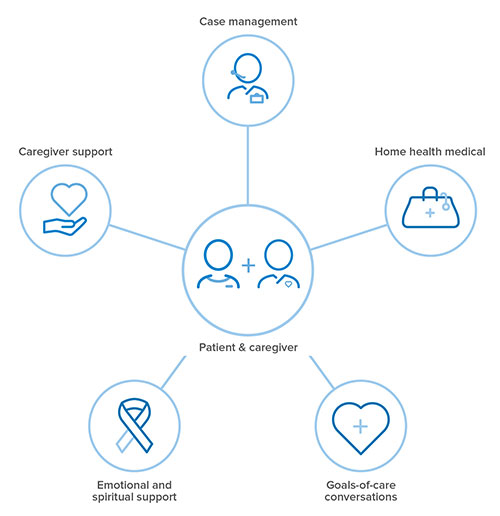 The benefit covers:
Specialized adult and pediatric palliative care case management: Assistance with care coordination and benefit navigation with specially trained nurses and social workers
Home health medical: Assistance with activities of daily living
Home health psychosocial support: Individual, family, and marriage counseling
Caregiver support: Case managers work with the member's caregiver even if the caregiver is not a Regence member

Goals of care/advance care planning (ACP) conversations: Provider reimbursement for conducting and documenting goals of care conversations with their Regence patients. See the Palliative Care Benefit Summary document under Additional Resources for information about how to submit claims for these conversations.

In light of the demand triggered by COVID-19 and to better support our Medicare Advantage members, we are now covering goals of care/ACP conversations at no cost share ($0 copay), regardless of the visit type or place of service. This benefit enhancement applies to telehealth (conducted via audio and video) and in-person visits with dates of service on or after January 1, 2020. Any impacted claims submitted this year with CPT 99497 or 99498 will automatically be reprocessed. To ensure members are supported if their health status and/or wishes regarding care planning change, the benefit covers one ACP conversation per day with no annual limit.
Note: Blue Cross and Blue Shield Federal Employee Program® (BCBS FEP®) plans' benefits for palliative care differ from all other Regence plans. Please refer to the Blue Cross Blue Shield Service Benefit Plan brochure for more information.
Verify your patients' eligibility and benefits using the Availity Provider Portal.
View and download the documents linked under Additional Resources for detailed information.
To refer your Individual, group or Medicare Advantage patients, please contact our Care Management Intake team at 1 (866) 543-5765 or complete an online Care management referral request.