Loading...
Regence Group Administrators (RGA) is a wholly owned subsidiary of Regence that provides third-party administrative services to self-funded employer groups primarily located in Oregon and Washington. RGA's self-funded employer group members may utilize our Participating and Preferred medical and dental networks.
Members may live in or travel to our service area and seek services from you. The RGA medical product uses BlueCard® nationwide and the Regence Participating and Preferred Provider Plan (PPP) networks.
The front of the member ID cards include the:
RGA logo or

National Account BlueCross BlueShield logo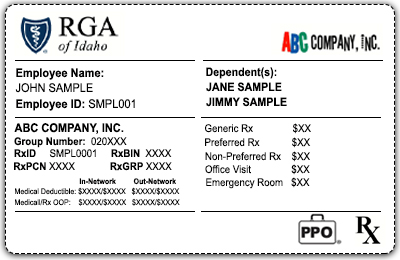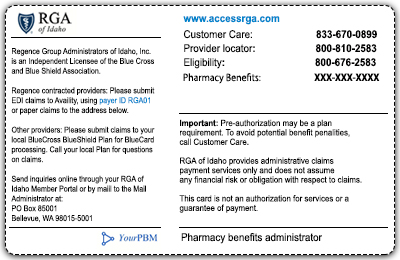 Obtain this information by:
Notes:
Access RGA member information via Availity Essentials.
Select "Regence Group Administrators" to submit eligibility and claim status inquires.
Availity Payer ID for Regence Group Administrators:

Use RGA01 when submitting 270 and 276 transactions to Availity

Please contact RGA to obtain pre-authorization information for RGA members. RGA employer group's pre-authorization requirements differ from Regence's requirements. Self-funded plans typically have more stringent authorization requirements than those for fully-insured health plans
Submit claims to RGA electronically or via paper.
Electronically: Submit claims directly to Availity with Payer Identification Code ID RGA01.
Mail: Regence Group Administrators, P.O. Box 52890, Bellevue, WA 98015-2890.
The claim should include the prefix and the subscriber number listed on the member's ID card.

Do not submit RGA claims to Regence. RGA claims that are submitted incorrectly to Regence will be returned with instructions to resubmit to the correct payer.
Vouchers and reimbursement checks will be sent by RGA. Claims information and vouchers for your RGA patients are available on the Availity Web Portal.
Provider vouchers and member Explanation of Benefits (EOBs) will include a message code and description. As indicated in your provider agreement with Regence, you will need to hold the member harmless (write-off) the amount indicated on the voucher when these message codes appear.
We generate weekly remittance advices to our participating providers for claims that have been processed. Benefits are not assignable; you will receive direct payment even if your patient signs an assignment authorization. Corresponding to the claims listed on your remittance advice, each member receives an Explanation of Benefits notice outlining balances for which they are responsible.
View or download your remittance advices in the Availity Provider Portal: Claims & Payments>Remittance Viewer or by enrolling to receive ANSI 835 electronic remittance advices (835 ERA) on the Availity Provider Portal: My Providers>Enrollments Center>Transaction Enrollment.
Remittance advices contain information on how we processed your claims. A single payment may be generated to clinics with separate remittance advices for each provider within the practice.
Remittance advices include:
Line by line breakdowns
Specific error messages
Boxes around the headers for each amount

Codes billed by line item and then, if applicable, the code(s) bundled into them
Claims for your patients are reported on a payment voucher and generated weekly. They are sorted by clinic, then alphabetically by provider. Each claims section is sorted by product, then claim type (original or adjusted). Within each section, claims are sorted by network, patient name and claim number. The main pages include original claims followed by adjusted claims that do not have an amount to be recovered.
View our message codes for additional information about how we processed a claim
Initial provider disputes and appeals can be submitted by mail or fax:

Mail: Regence Group Administrators, Attn: Attn: Appeals, PO Box 52730, Bellevue, WA 98015-2730
Fax: Regence Group Administrators, Attn: Appeals 855-462-8875

For inquiries regarding status of an appeal, providers can email.