Loading...
When members of Blue Plans arrive at your office or facility, be sure to ask them for their current member ID card. To ensure accurate claims processing, it is critical to capture all member ID card data. If the information is not captured correctly, you may experience a delay with claims processing.
The main identifiers of BlueCard eligible members are a prefix and a suitcase logo.
A correct member number includes prefix and all subsequent characters, up to 17 positions total. Others may be fewer than 17 positions.
The prefix on member ID cards is generally three characters and can be alpha or alpha-numeric.
Some member numbers may include characters in other positions following the prefix.
The prefix is critical for the electronic routing of the claim to the appropriate Blue Plan.

You may encounter some member ID cards with no group number. In this situation, leave the group number field on the claim blank or populate the field with 99999999.
Do ask for the member ID card and submit the complete number, including prefix, exactly as it appears.
Do make copies of the front and the back of the member ID card and share this information with your billing staff.
Don't add or delete characters or numbers within the member number.
Don't change the sequence of the characters following the prefix.

Don't assume that the member's number is their social security number (SSN). SSNs are no longer used as member numbers.
The prefix on the member ID card is:
Used to identify and route claims
Critical for confirming a patient's membership and coverage
Identifies the Blue Plan or national account to which the member belongs

Generally three characters

The prefix can include alpha and numeric characters (e.g., A2A, 2AA, 22A, AA2, 2A2, A22)

The prefix will not contain only numbers and will not include the numbers one or zero in any position.
If you have implemented system changes to limit the prefix to a three-character alpha-only prefix, you will need to make system modifications to allow for numeric characters.

You may see cards with four-character prefixes, e.g., HMSA Blue Cross Blue Shield of Hawaii uses four-character prefixes.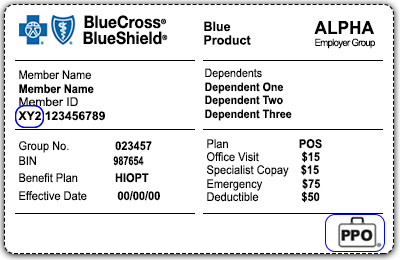 Member ID cards with no prefix
Some member ID cards may not have a prefix. This indicates that the claims are excluded from the BlueCard Program. Please look for instructions or a phone number on the back of the member ID card.
In addition to the prefix, member ID cards may also have:
A blank suitcase logo
A PPO in the suitcase logo
PPOB in the suitcase logo
HPN in the suitcase logo
MA in the suitcase logo

No suitcase logo
Blank suitcase logo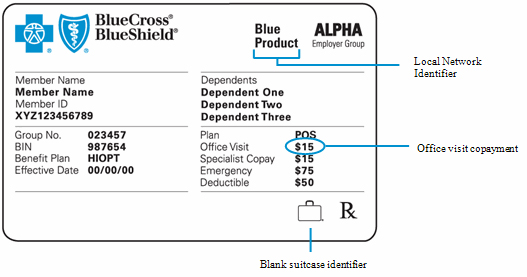 A blank suitcase logo on a member ID card means that the patient has one of the following benefits delivered through BlueCard:
Traditional
Point of Service (POS)

Health Maintenance Organization (HMO). If members are enrolled in primary care physician (PCP) panels, the card will include an office visit copay, if applicable.
A PPO in the suitcase logo

BlueCard Preferred Provider Organization (PPO) or Exclusive Provider Organization (EPO) members can be identified by the "PPO in a suitcase" logo on their card.
EPO:
Out-of-area coverage is restricted to services provided by BlueCard PPO providers.
Members receive no benefits for care obtained outside the network (except emergency care).

Member ID cards include information on the back, stating that these members have no or limited benefits, except when receiving services from a BlueCard PPO provider.
These members:
Are members of Blue Plans with PPO or EPO benefits that are delivered through the BlueCard Program

Receive the PPO level of benefits when they obtain services from designated BlueCard PPO physicians, other health care professionals or facilities while traveling or living outside of their Blue Plan's service area
It's important to remember that not all PPO members are BlueCard PPO members, only members whose cards carry this logo.
PPOB in the suitcase logo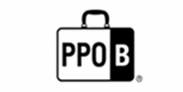 When you see the "PPOB in a suitcase" logo on the front of the member ID card, it means the member has selected a PPO product, from a Blue Plan, and the member has access to a new PPO network, referred to as BlueCard PPO Basic. BlueCard PPO Basic is used for members on exchange products sold by Blue Cross and Blue Shield Plans.
HPN in the suitcase logo

Plans within the Blue Cross Blue Shield Association, including Regence Plans, are partnering with select health care providers to launch a new national high-performance network—Blue High Performance Network℠ (Blue HPN℠). Blue HPN is available to patients in more than 55 major U.S. markets.
Easily identify members by looking at their member ID card. "Blue High Performance Network" will be prominently displayed on the front of the member ID card, along with the "HPN in a suitcase" logo. This logo indicates that Blue HPN rates apply (Regence's preferred provider rates).
MA in the suitcase logo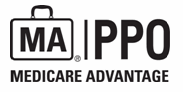 Network sharing allows Medicare Advantage (MA) PPO members from MA PPO Blue Plans to obtain in-network benefits when traveling or living in the service areas of the MA PPO Plans, when the member sees a contracted Medicare Advantage PPO provider.
The "MA" in the suitcase on the member ID card indicates a member who is covered under the Medicare Advantage network sharing program.
Members have been asked not to show their standard Medicare card when receiving services; instead, members should provide their Blue Cross and/or Blue Shield member ID card.
Learn more about MA PPO network sharing.
You may also see these Medicare Advantage member ID cards.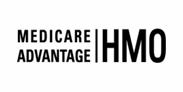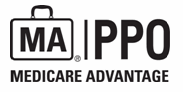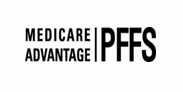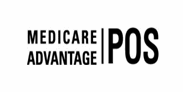 When these logos are displayed on the front of a member ID card, it indicates the coverage type the member has in his/her Blue Plan service area or region. However, when the member receives services outside his/her Blue Plan service area or region, provider reimbursement for covered services is based on the Medicare allowed amount, except for PPO network sharing arrangements (as indicated above).
No suitcase logo
If the member ID card has a prefix (but does not have a suitcase logo), send the claim to your local Regence plan.
There will not be a suitcase logo on cards for members with:
Medigap
Medicaid
Medicare Private Fee-for-Service

State Children's Health Insurance Plan (SCHIP), if administered as part of Medicaid
Occasionally, you may see cards from international Blue Plan members.
These cards will also contain prefixes.

Treat claims for these members the same as claims for domestic Blue Plan members.
Front and back of a card of a Blue Plan member from Uruguay: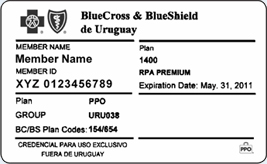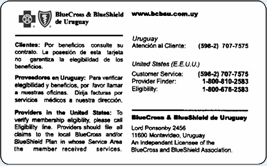 Note: The cards for Canadian Blue Cross members do not have a prefix or a suitcase logo. As with other member ID cards that do not include a prefix or suitcase logo, please follow the instructions on the back of the card to check eligibility and file claims.
Limited benefit plans include annual benefits limited to $50,000 or less. Currently Regence does not offer limited benefit plans to our members. However, you may see patients with limited benefits who are covered by another Blue Plan.
These member ID cards will have:
A green stripe at the bottom of the card

One of the following product names: InReach or MyBasic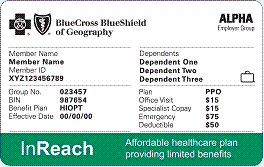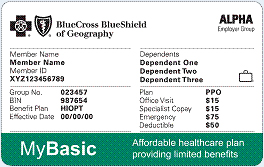 We recommend you verify patient's benefits and eligibility prior to rendering services, whenever possible.
You may do so electronically by submitting an ANSI 270 electronic inquiry or by calling BlueCard Eligibility at 1 (800) 676-BLUE (2583).
Please follow the instructions on the back of the card to file claims.